The holiday season is well underway! If you're hosting this year, you're probably thinking of ways you and your guests can have the holly-jolliest time. Maybe you need to organize your entryway, revamp your guest room, or even rethink the design of your kitchen. Think you're already out of time? Entertaining isn't just for the holidays. Super Bowl parties and summer barbeques will be here before you know it. No matter what time of year it is, here are some tips to help make your home everyone's favorite gathering spot.
Front door confusion?
Okay, let's start with the basics. We've all driven up to a house, parked our car and then walked around trying to find the front door. A well-designed home should have a clear and welcoming entry. It should set the tone with details that match the home and resonate with the homeowners. Adding porches and inset doors help identify where to enter and protect you from the elements as you come and go. An easy, well-lit path helps guests navigate to the front door without tripping. That's one less pumpkin pie splatter on the walkway.
"A WELL-DESIGNED HOME SHOULD HAVE A CLEAR AND WELCOMING ENTRY."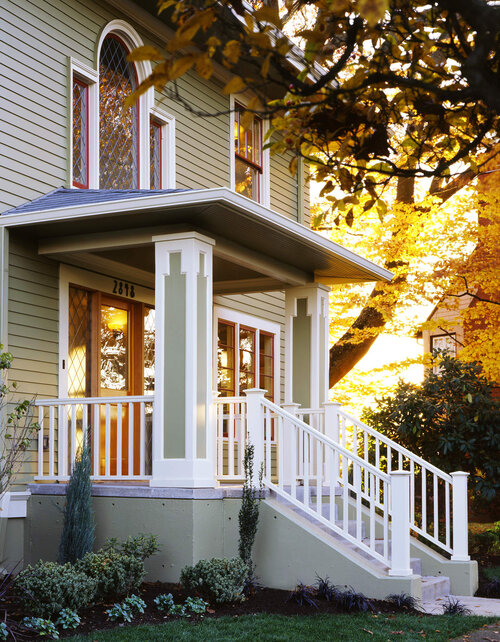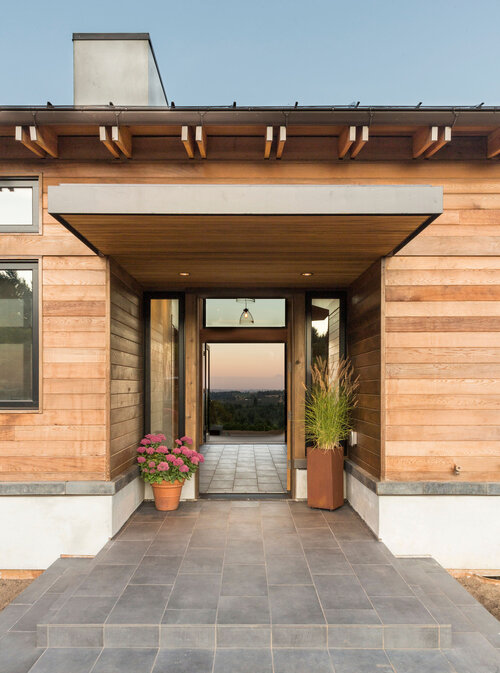 Functioning foyer
When you enter your home, is there a clear place to store your things? Will your guests know where to hang their coats as they walk in the door? Adding a bench and hooks makes it easy for visitors to leave personal items by the door and access them when needed. Don't make your guests navigate a pile of coats on the bed or open countless doors in search of the coat closet. Instead, create a mudroom for easy storage.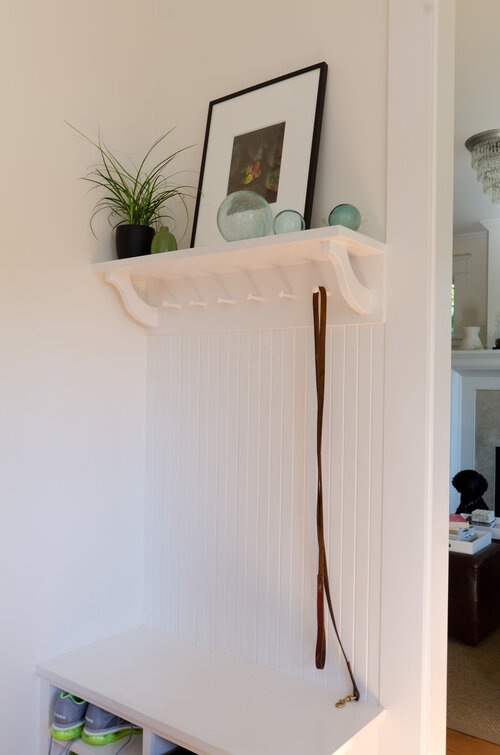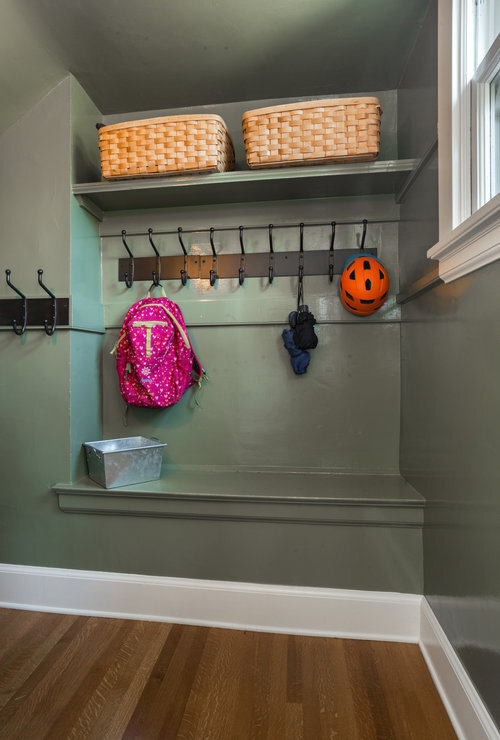 Central open kitchen
It's true, everyone ends up in the kitchen at parties. No matter how many times you shoo your guests out, they're often drawn to that room. Even more true if you're wrapping up last minute meal details or assembling drinks to kick off the festivities. It's important to have a clear area where guests can stand and chat while being out of the way. An island with easy-to-grab stools is great for this. The island acts as a barrier to keep guests out of the cooking zone, as well as a surface to stage a buffet or drink station.
"IT'S IMPORTANT TO HAVE A CLEAR AREA WHERE GUESTS CAN STAND AND CHAT WHILE BEING OUT OF THE WAY."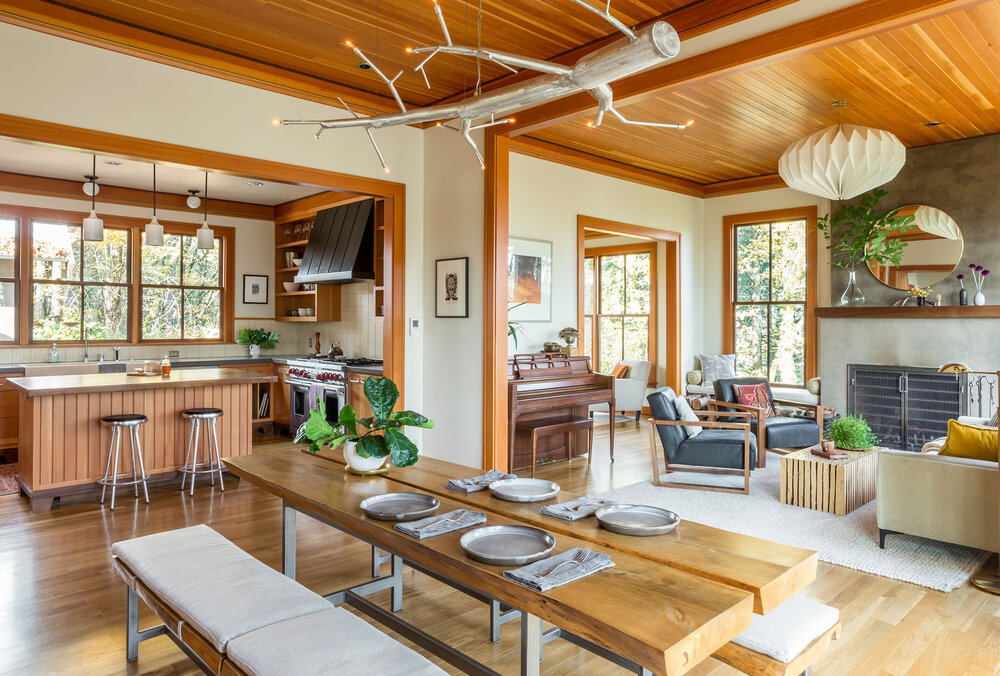 Create indoor/outdoor flow
There's a reason people ask for patio seating when eating at a restaurant. People are drawn to sitting outside. Having accordion or French doors that open to a patio or covered porch automatically creates character and interest in your home. Equally important, it enlarges your entertaining space and gives your guests a chance to enjoy the great outdoors. Having these spaces adjacent to major rooms like the living area keeps the party flowing back and forth. Think about incorporating a fire pit, mood lighting, covered areas, or outdoor heaters as a special touch to help guests relax.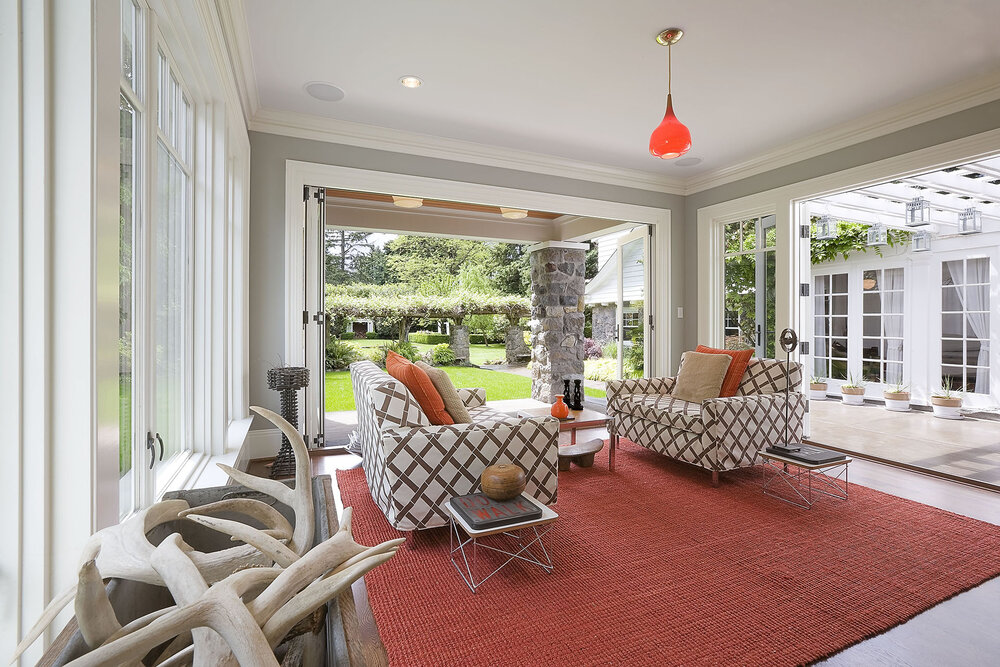 Formal/informal spaces
A careful blending of formal and informal rooms in your home provides more options for entertaining. It can help you move guests through an experience. Maybe you start in the kitchen for casual appetizers, sit in a dining room for a formal dinner, and end around a fireplace for conversation. If you're hosting a big, boisterous party, having a quiet library space adjacent to the living room gives guests a place to retreat from the noise.
"A CAREFUL BLENDING OF FORMAL AND INFORMAL ROOMS IN YOUR HOME PROVIDES MORE OPTIONS FOR ENTERTAINING."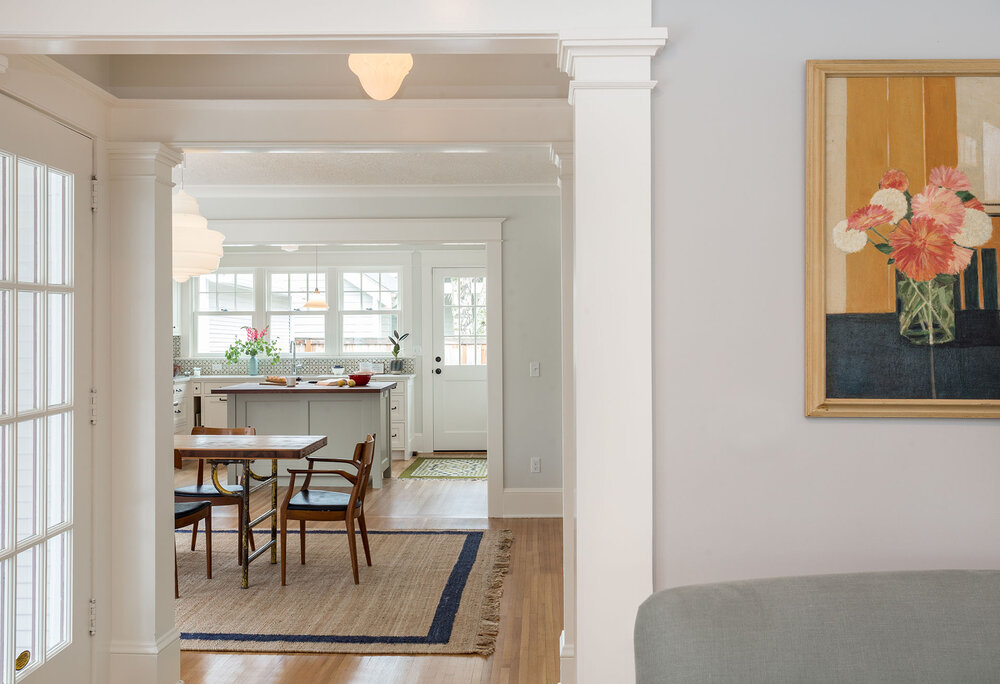 Home bar
Having a designated area to house your bartending basics is a hosting lifesaver. It allows your guests to view drink options and help themselves to refills. Place your home bar close to the kitchen but off to the side to keep guests out from underfoot while you're prepping.
"HAVING A DESIGNATED BAR AREA TO HOUSE YOUR BARTENDING BASICS IS A HOSTING LIFESAVER."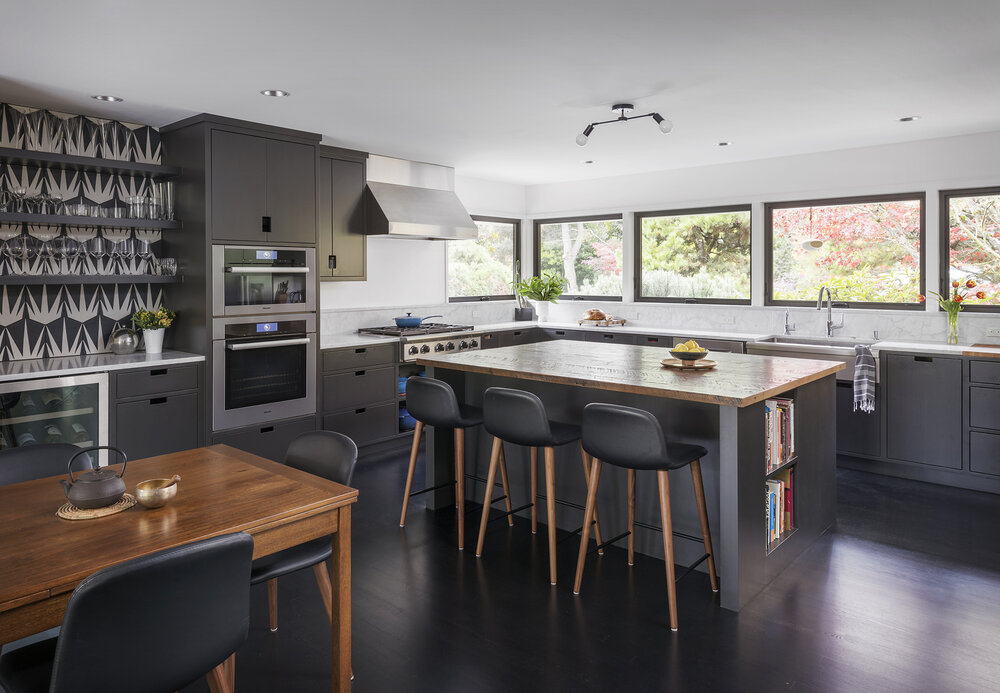 Conversation areas
The magic of bringing people into your home is to engage with them, have a conversation, and share memories. Having a mixture of conversation areas is crucial for this. Create inviting places people will naturally gather and feel welcomed and comfortable. A dining nook with a built-in bench, a fireplace room with cozy touches, or a porch with a view of your yard can all help people relax and feel at home in your home.
"CREATE INVITING PLACES PEOPLE WILL NATURALLY GATHER AND FEEL WELCOMED AND COMFORTABLE."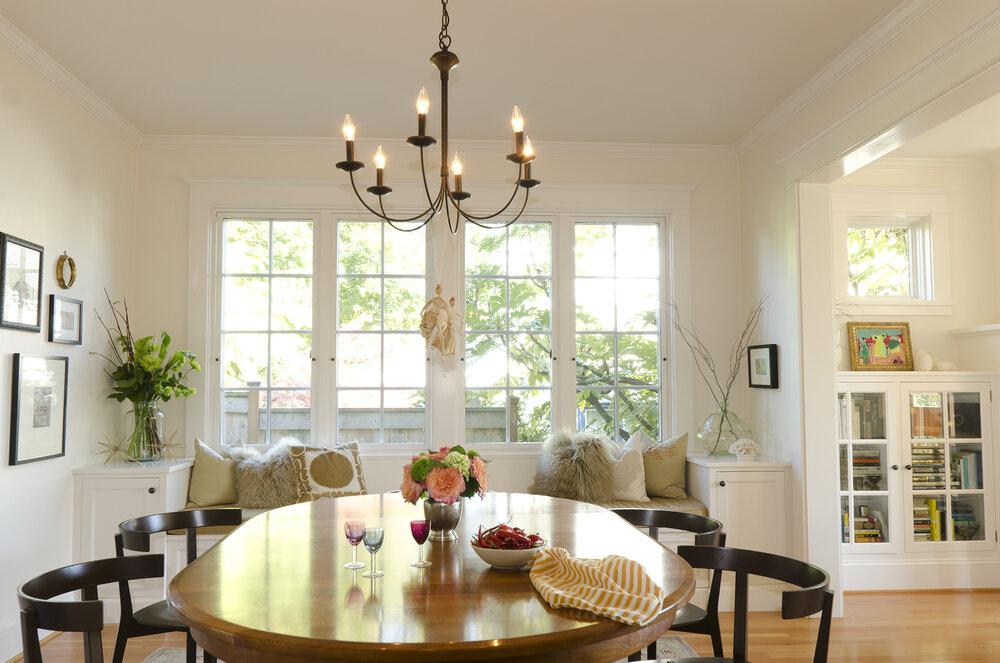 Think of the senses
Don't forget the little things that set a feeling in your home. Lights with dimmers to lower the lights, a sound system to play music in the background, a fireplace for making a hearth, and windows and doors that open to fresh air will delight the senses.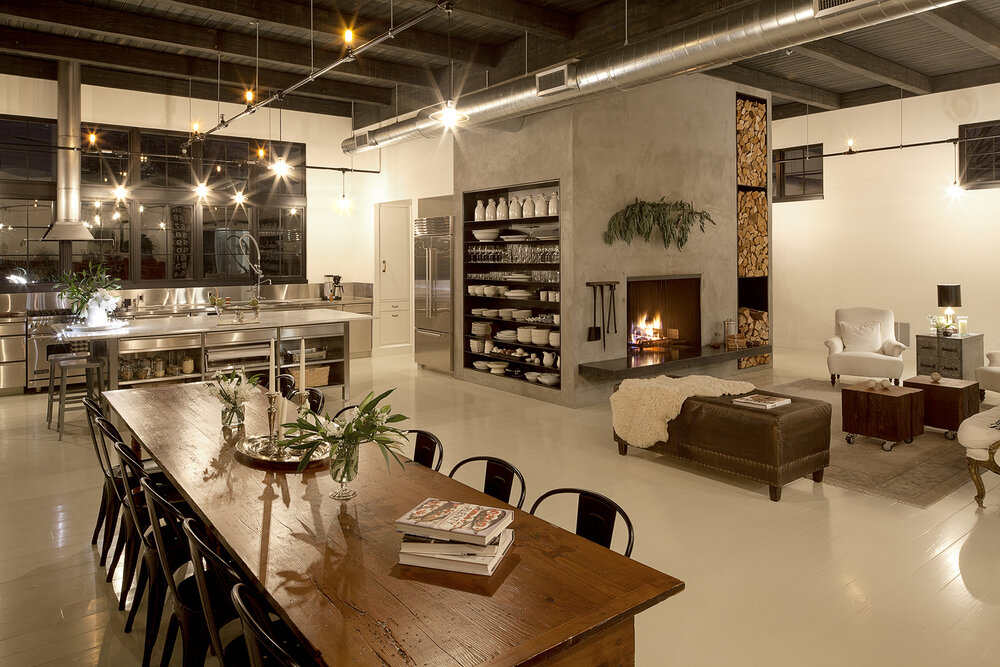 Entertaining can be stressful. There's a lot of prep work involved to ensure everything looks and feels just right. You can take some of the guesswork out of planning if you know your home is conducive to entertaining. With designated areas to relax and visit in an organized home, your party should flow through the evening seamlessly. The only problem you might have is convincing your guests to leave.