When buying or building a home with a toddler in tow, it's tough to imagine how that home will adapt for teenagers or even empty nesters once that toddler is off to college. These are vastly different stages of life, but there are ways to be strategic about growing your home as your family's needs evolve.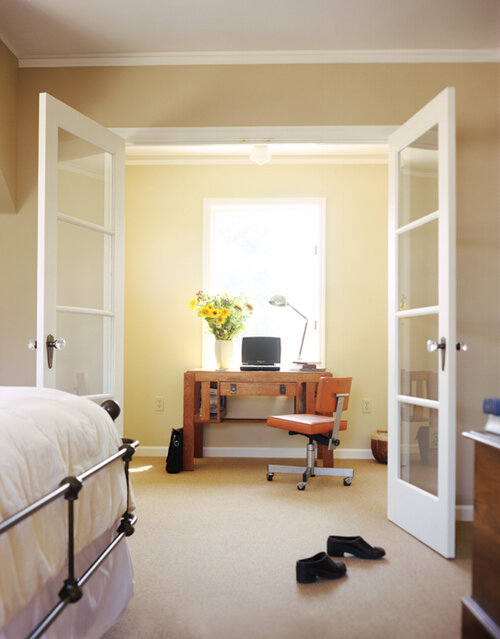 Flexibility
When talking with new parents, it's often very important to have space to keep their baby right next to them. But when we talk to parents of teenagers… not so much. In fact the older kids become, the more important it is for both physical and figurative space for everyone in the family.
Think about the flexibility of spaces in your home for the future. Having a small room near a master bedroom that starts as a nursery can eventually become an office, a walk-in closet, or even a family library/study.
"THE OLDER KIDS BECOME, THE MORE IMPORTANT IT IS FOR BOTH PHYSICAL AND FIGURATIVE SPACE FOR EVERYONE IN THE FAMILY. "
Invest in the kitchen
Without a doubt, the kitchen is the hub of family activity. Whether you gather there to cook a meal or just enjoy take-out, it's a room that should be vibrant, active, and accessible for everyone at all ages. Think about places where someone can pull up a chair to chat or a counter where kids can do homework. Breakfast nooks are great places for people to feel part of the action without being in the way. A kitchen can evolve from a toddler play area, to an instrument practice space, and eventually even a small home office. And don't forget about four-legged family members. Having a nook that holds a bed, food, and water for your pet keeps them part of the pack but not underfoot.
"…DON'T FORGET ABOUT FOUR-LEGGED FAMILY MEMBERS. HAVING A NOOK THAT HOLDS A BED, FOOD, AND WATER FOR YOUR PET KEEPS THEM PART OF THE PACK BUT NOT UNDERFOOT…"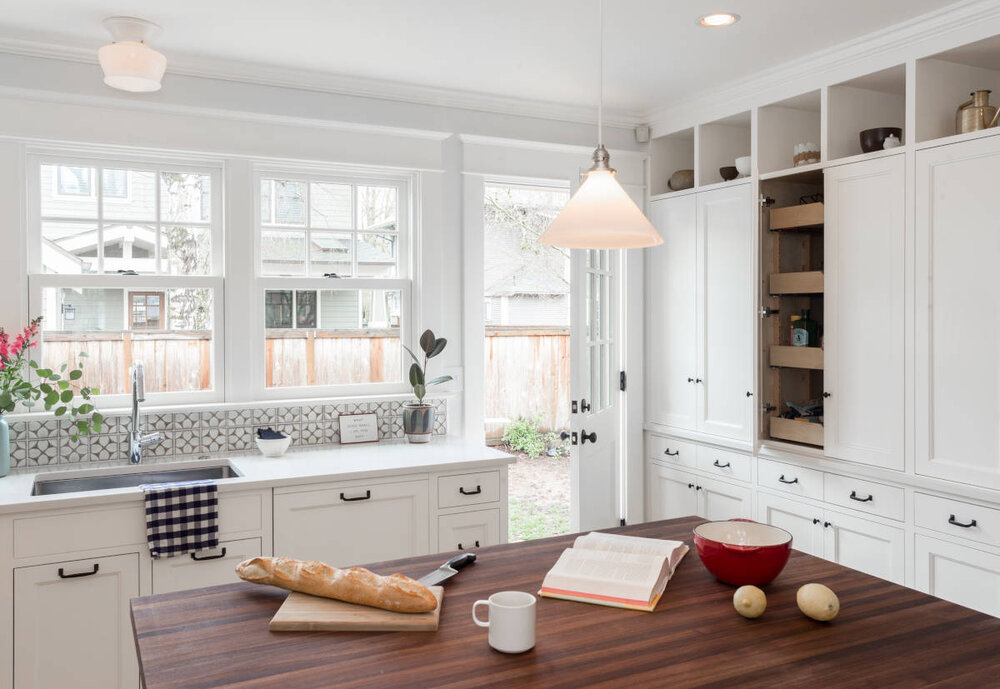 Retreat and replenish
If the kitchen is the center of family life, then the master bedroom is your own private sanctuary. The need to recharge at the end of the day will be a constant, no matter what stage your family is at. Make your master bedroom quiet, beautiful, and personal. Design it in a way that speaks to you. Consider special touches like a Juliette balcony to stay connected to the outdoors or a vaulted ceiling to feel spacious. Don't forget to invest in built-ins to hide your everyday clutter. They tend to be more visually calming than a mix of loose furniture housing the same items.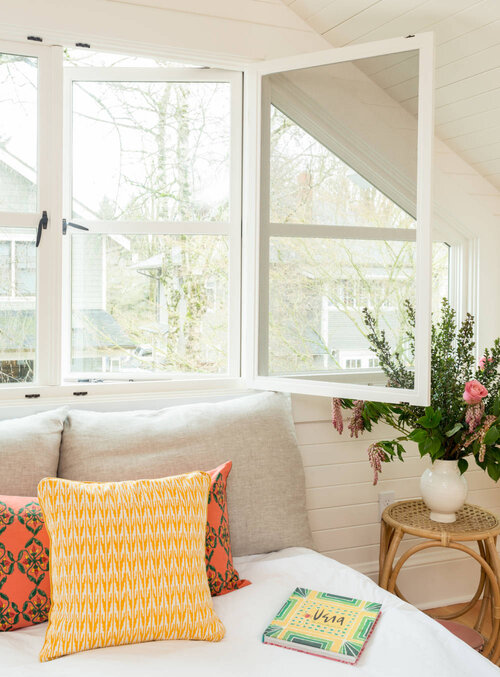 House your stuff
An active family accumulates a lot of stuff. What starts as car seats and strollers quickly becomes bikes, sports equipment, and school textbooks. Throw in your own love of woodworking or skiing and you've got a lot of stuff to manage. Be strategic with your garage and basement storage. Mudrooms are a top requested room for families and it makes sense. Muddy shoes, backpacks, and dog toys all need to be stored somewhere that's organized and easily accessible. A mudroom next to the door helps contain the clutter.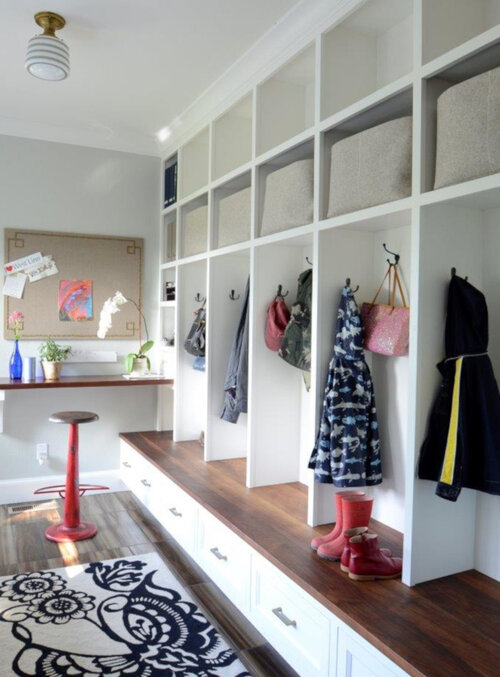 "AN ACTIVE FAMILY ACCUMULATES A LOT OF STUFF. WHAT STARTS AS CAR SEATS AND STROLLERS QUICKLY BECOMES BIKES, SPORTS EQUIPMENT, AND SCHOOL TEXTBOOKS."
Beauty
Just because you have a full house with a growing family doesn't mean you need to reduce it down to functionality. Make beauty, delight, and fun part of your home, too. Show off your personality. For one client, this meant large sliding chalkboard walls that everyone could draw on. For another, it was an over-the-top bathroom with bold pops of color that made them happy each day. Authentic expressions of you through the home helps you, your family, and guests relax and enjoy it. Don't skimp on materials–invest in natural products even if they initially cost more. They tend to patina the best and their beauty improves with a few scuffs and marks from use.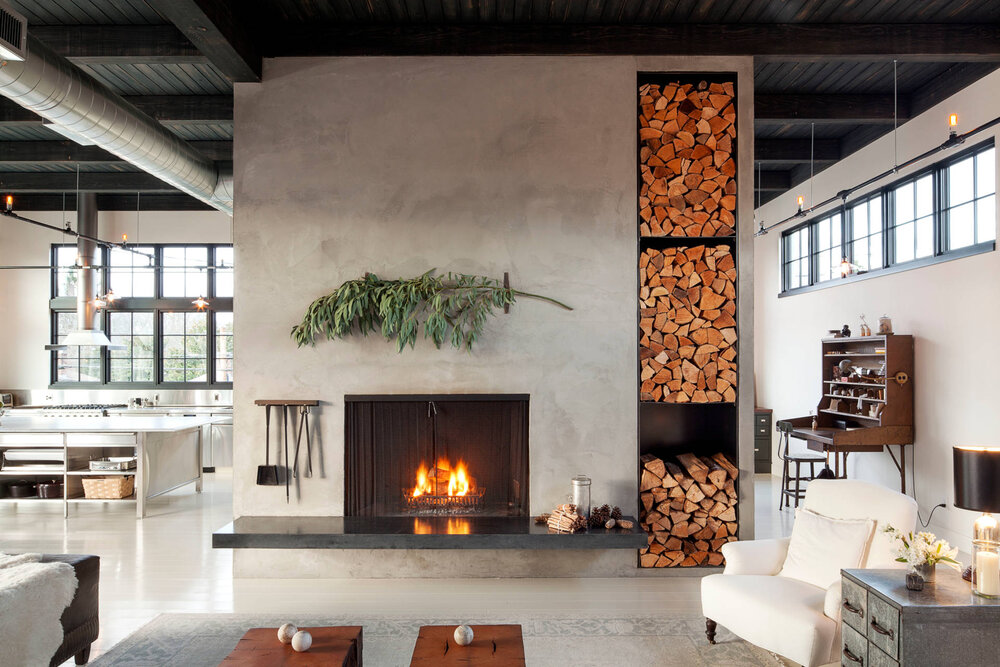 Porches and decks
Porches are worth their weight in gold because they are an investment in your neighborhood.  After adding porches for clients, several have told us the minute they started using it, they met neighbors they had never spoken to before. Kids are natural ambassadors and having families feel comfortable on their street with a porch opens up a whole new world. Decks tend to be more private, but their value for family communication and access to nature is essential. Sitting outside, away from technology slows a family down.
"DECKS TEND TO BE MORE PRIVATE, BUT THEIR VALUE FOR FAMILY COMMUNICATION AND ACCESS TO NATURE IS ESSENTIAL. SITTING OUTSIDE, AWAY FROM TECHNOLOGY SLOWS A FAMILY DOWN."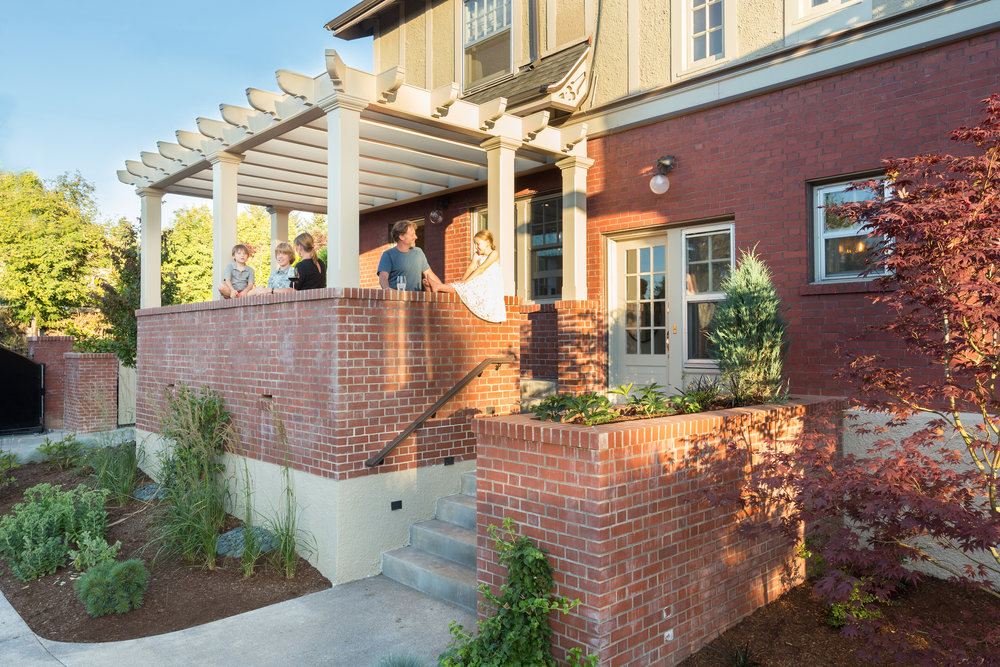 Layered spaces
We tend to focus on the main spaces in a house, but don't forget the edges. Nooks and crannies allow people to retreat while maintaining connectivity. They're places to play with scale to add interest. Maybe it's a cozy, built-in bench with a lowered ceiling–perfect for window gazing. Or it could be a tall wall of books to create a sense of grandness. Secret little pockets become beloved rooms in and of themselves.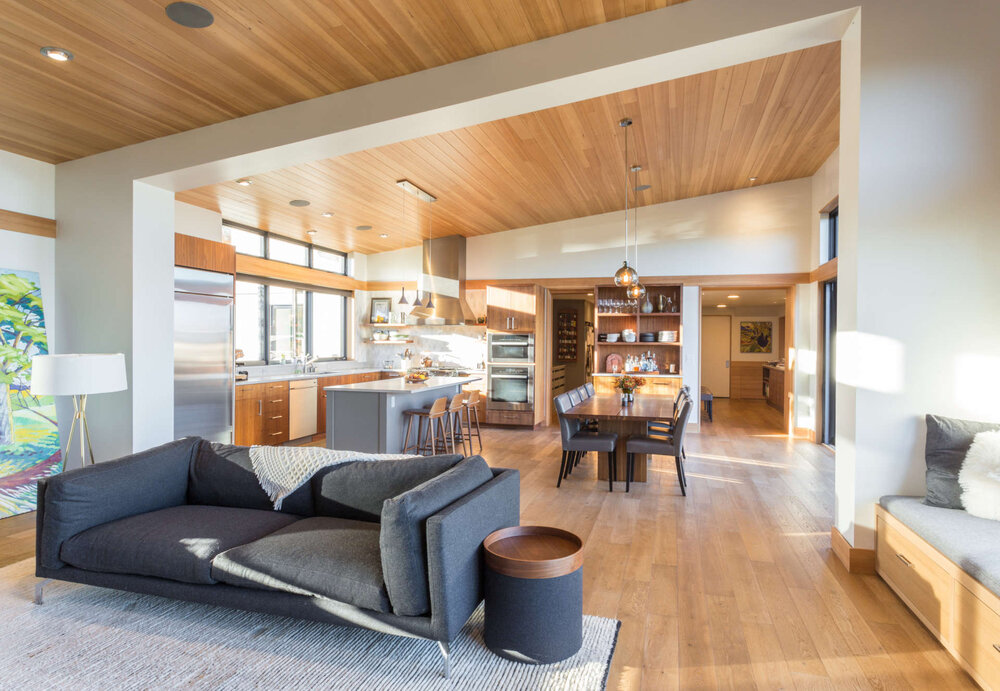 Think about you, too
The nature of families is they are constantly changing. Don't lose sight of what's important to you in your home. Try to think of the little touches that would help your family age in your home. Often these touches are valuable to have from the time children are small to the day they eventually move on. A future home office can be a great arts and crafts room when kids are little. A family room with a kitchenette can be great for family movie night with the kids, then later double as a place for aging parents to come and visit.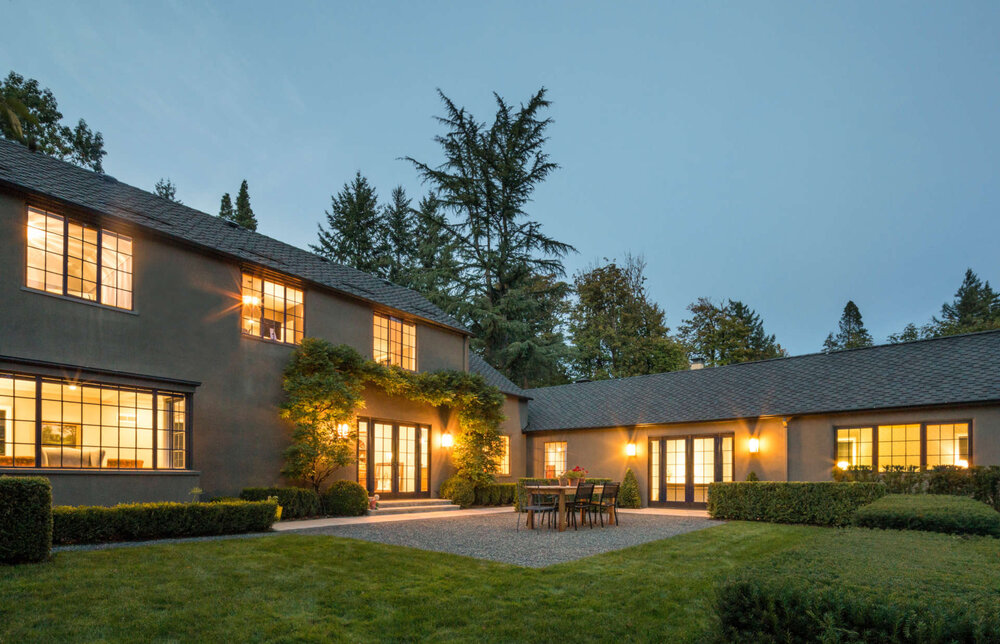 Having a general plan in mind for how to use your space in the future will help maximize your time in one home. Families are dynamic and homes can be too. Be mindful about which spaces can be repurposed for the future so you won't be forced to pack up and move as your family grows.