Keith Daily is an Associate at Emerick with a soft spot for New York style pizza and the great outdoors. You won't find him driving around Portland in a car – biking is his preferred method of transportation (like most of the Emerick team).
Architecture first piqued his interest in high school, and he knew after only one week of Architecture 101 in college that he had made the right career choice. Read through our Q&A with Keith to find out about his favorite Emerick project to date, why he enjoys being an architect, favorite curse word, and more!
Name & Title at Emerick Architects
Keith Daily – Associate
What's your favorite project you've worked on at Emerick? Why?
1930 Alberta, because it shows you can build quality, multi-family housing in Portland without breaking the bank. The recent apartment boom has unfortunately given rise to a lot of generic and poorly crafted spaces, but the look, scale, and feel of 1930 Alberta stands in sharp contrast to all of that. Towards the end of construction, I had a few neighborhood residents tell me how much they appreciated the building, which was so incredibly gratifying to hear.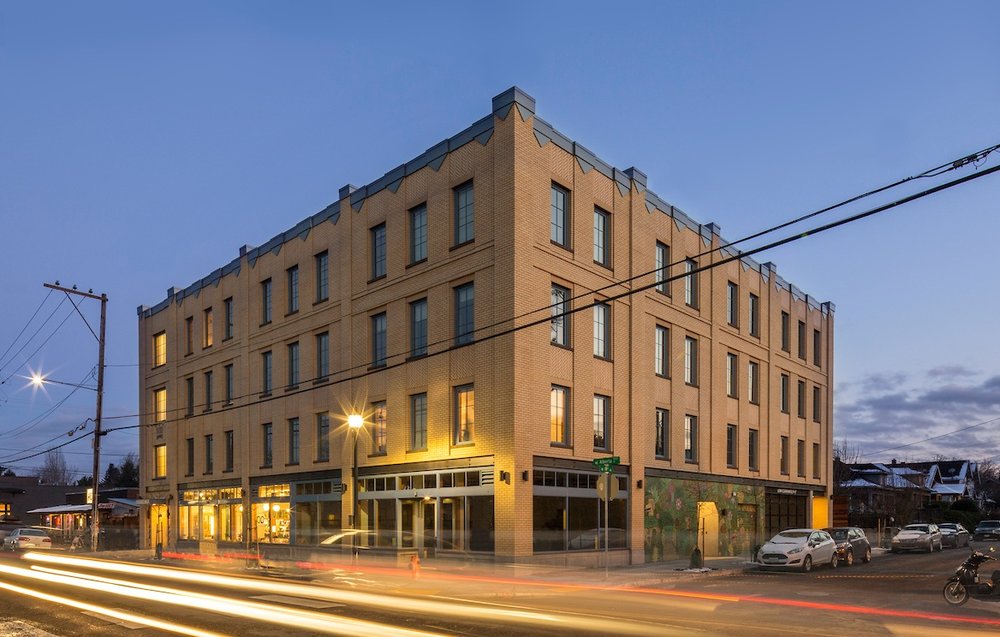 What's your favorite thing about being an architect?
Creating art that people inhabit. The spaces that we live, work and play in have a major impact on our emotional well-being – just ask anyone who has spent their work week in a windowless cubicle under bad fluorescent lighting! Designing spaces that can lift spirits or put minds at ease, places that people come home to, and that memories are formed within; it doesn't get any better than that for me.
Why did you become an architect? Was it something you always wanted to do?
You know, I consider myself lucky to have ended up as an architect. In high school, I loved to draw and was good at math. My guidance counselor insisted this meant I should be an engineer and actually shot down my talk of architecture (which still bugs me to this day). I was offered a hefty scholarship to an engineering school, but when I took a tour and sat in some classes, I knew it wasn't for me. I was terrified to tell my parents because it meant walking away from free tuition, but they were totally understanding and made a huge financial sacrifice to send me to UVa instead (Wahoowa!). By the end of my first week of Architecture 101, I was hooked and haven't looked back since. It's a good thing too, because my parents may have disowned me if it didn't work out!
What's one type of project you've never worked on but would like to?
A completely off-the-grid house. Hopefully, that is how they are all getting done by the time my career is over.
What's the first thing you would buy for yourself if you won the lottery?
Land. A nice spot in the woods on a lake, river, or some other body of water.
What's the next place you would like to travel to?
My 10-year old daughter is obsessed with going to France. My wife recently told her we'll take her to Paris when she learns to speak French, and that kid has been glued to Duolingo ever since! I love her motivation and I hope she follows through, so I'm pulling for France as our next great travel venture!
What's the first thing you do when you wake up in the morning?
Coffee…and then coffee.
What's your spirit animal?
A very scientific online quiz told me it's an elephant.
If you had to eat one thing for the rest of your life, what would it be?
Pizza, but only thin crust New York / New Haven style, not that imitation garbage that some try to pass off as pizza.
Beach or mountains?
Both. I settled in Portland so that I don't have to make that choice! Camping in the forest is my favorite way to spend a summer weekend, but nothing refreshes my soul more than looking out to the vast, blue ocean.
What's the number one place you recommend to eat in Portland?
A little Mexican restaurant called Rocio's in Southeast. As a family of four, we're always searching for a low stress, good vibes place that keeps both kids and grown-ups happy. Rocio's opened in our neighborhood a few years ago and checked all those boxes for us. Nothing too fancy or too spectacular, but they make tasty food at reasonable prices and serve up some killer margaritas.
What's one thing you think everyone should try in their lives?
Live in New York City for a few years! The energy, culture and diversity of New York is unmatched by any city in this country. You'll never work as hard or play as much, and the city will open your eyes to things you've never imagined.
How do you relax after a long day at work?
Grab a cold beer or a glass of wine, throw on some sports or a good TV show to shut down my brain and zone out.
Bike or car?
Bike! Traffic stinks!
Favorite curse word.
It has to be 'Fuck!' Nothing is more cathartic than letting out a good F-bomb!